Ocobike is closed from December 18, 2023 to January 7, 2024 for holidays.

During this period no orders will be sent.
Any order that reaches us before December 14 can be shipped before closing.
Any order that reaches us during the closure will be shipped on January 8th.
We wish you a happy Christmas and New Year.
---
E-FATI ST
2 X Bafang 48V 250W Motor
Power (max) 500W
Dual Controller
Torque (max) 2 X 60Nm
New at E-FATI from 2023 is the ST Model Scooter
Two 250 W motors, total power 500 W, 2 x 60 Nm, 48 V 20 Ah (960 Wh) battery in frame, dual controller, with thumb throttle,
Mudguards, luggage rack, display with automatic lighting, hydraulic 180 disc brakes.
Optionally with seat post and Royal Gel saddle for easy attachment with 4 screws on the platform and front rack for attachment to the front frame
prepared for it.
Options:
Seat post - CHF 74.- / To be attached to the platform with 4 screws
Selle Royal Gel CHF 43.-
Front luggage rack CHF 35.-
Ab/dès CHF 3299.00 (TVA incl.)
---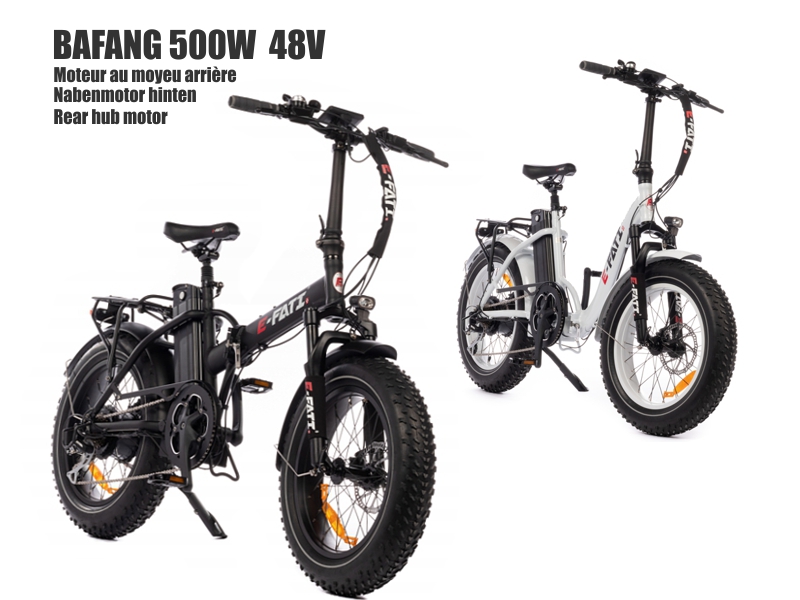 E-FATI E-URBAN
The E-FATI E-URBAN range are equipped with BAFANG 48V 500W rear wheel motors with Samsung 48V 20Ah 960Wh If you intend to use your E-FATI on short trips and reasonable slopes, if you like dynamic driving for urban use, you can opt for an engine in the E-FATI rear wheel hub. This engine is the most nervous and reactive because it is directly connected to the rear transmission, and accelerates without going through the crank, the pinion and the chain. Which is highly appreciated by those who love dynamic driving. The E-FATI engine, built into the hub of the rear wheel, is virtually invisible. Many models, even high-end, are based on this engine.
---
E-FATI E-TOUR
The Models L-C and LU-C E-FATI 2022 are equipped with BAFANG M400 48V central motors , The engine develops a torque of 80 N.M (Newton meters) comes with a battery pack of 960 WH. For those who are unfamiliar with these features, they are high values, much higher than those of other manufacturers for example. If you have a bigger budget, and you are going to use your E-fati over longer distances and frequently with big hils, you are strongly advised to go on a central E-FATI TOUR M400 engine.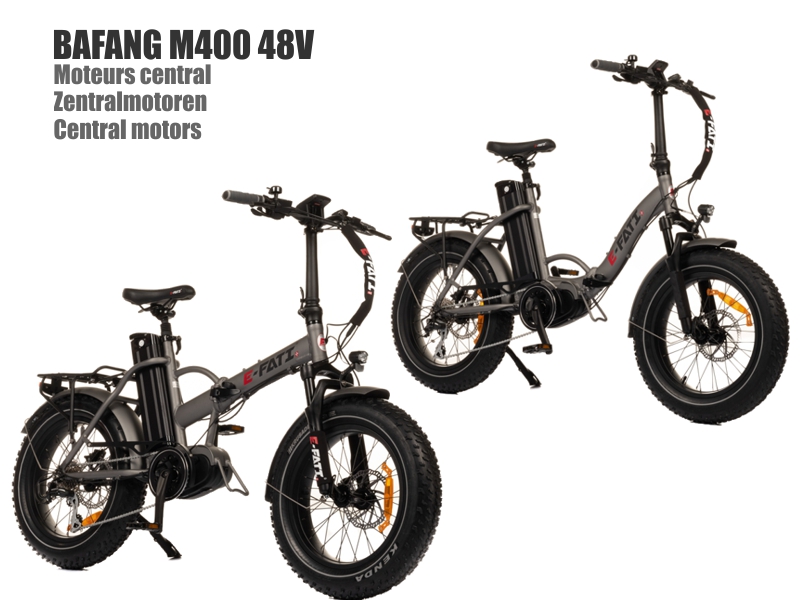 ---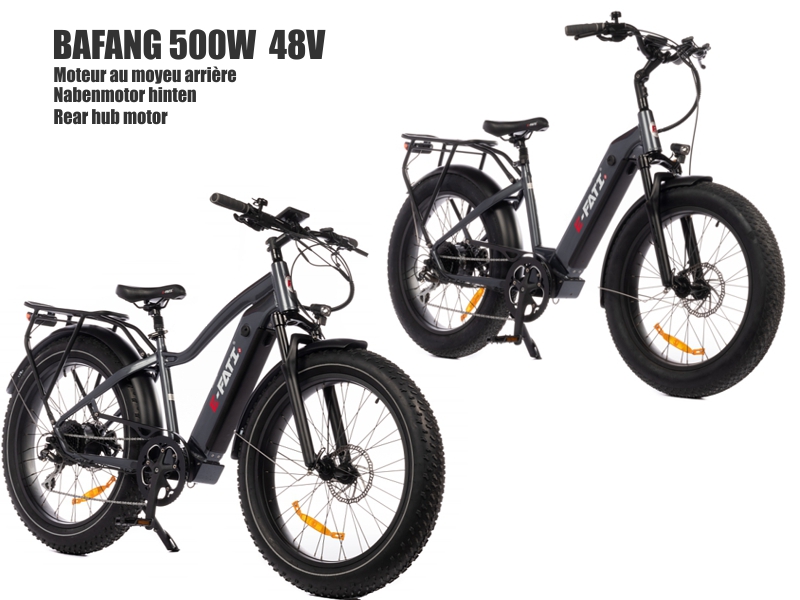 E-FATI CITY & TREKKING
The G and GU Models The E-FATI CITY TREKKING Range are equipped with BAFANG 48V 500W rear wheel motors with its 26" x 4.0 wheels is designed to face any type of terrain throughout the year. The lithium battery of very large capacity 48V 17.5Ah, is perfectly integrated into its frame Treat yourself to unique sensations on each outing.
---
MOBYGO Carbon Racer
The Carbon Racer is an electric fat bike with a vintage spirit but with a good dose of modernity. The design is inspired by the Café Racer of the time. But the equipment is of our time. Integrated and removable battery, hydraulic disc brakes, powerful LED lighting, suspension fork contribute to safe driving. The Carbon Racer is truly unique. The frame is covered with an imitation carbon paint of the most beautiful effect.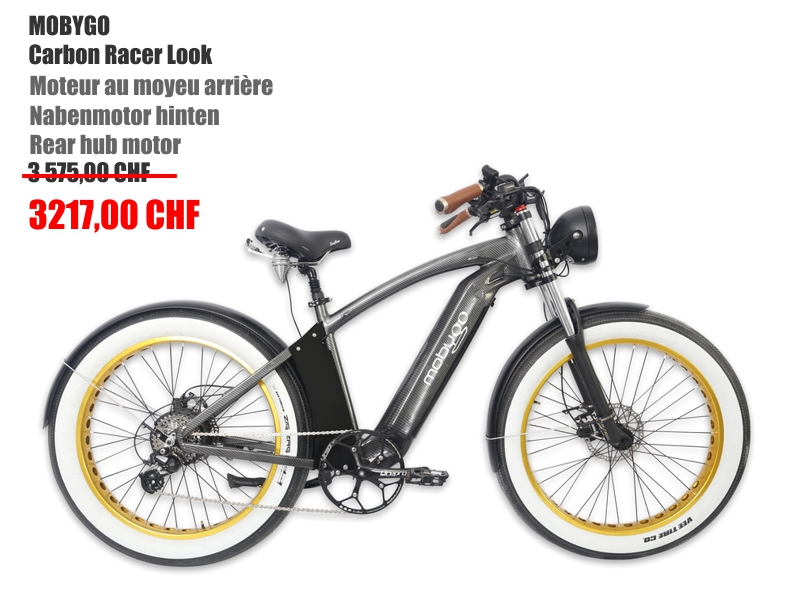 ---
MOBYGO Kargy
It is a powerful, durable and practical cargo bike. The Kargy is equipped with the famous Bafang M600 motor with a power of 500W. Its very high torque of 120Nm allows you to go where you want without difficulty and even with a heavy load. The Kargy is equipped with two batteries for a double and flexible autonomy. They can be extracted from the frame quickly for charging at home or in the office. The MOBYGO Kargy has very complete equipment: mudguards, front rack, rear rack, front and rear lights, ... The Kargy is a unique proposition in the cargo ebike market. Its quality/performance/price ratio is unbeatable.
---
TCS Bike Insurance
Casco protection throughout Europe
Reimbursed repair costs: after an accident, we bear the costs of repairing your bike.
Protection against theft throughout Europe.
In the event of theft, you receive up to 100% of the price of your new classic or electric bike.
24-hour breakdown assistance throughout Switzerland.
We are available to you 24 hours a day and are on site quickly.
Our dense network of patrollers ensures that you can continue your journey by bike or e-bike throughout Switzerland.
---