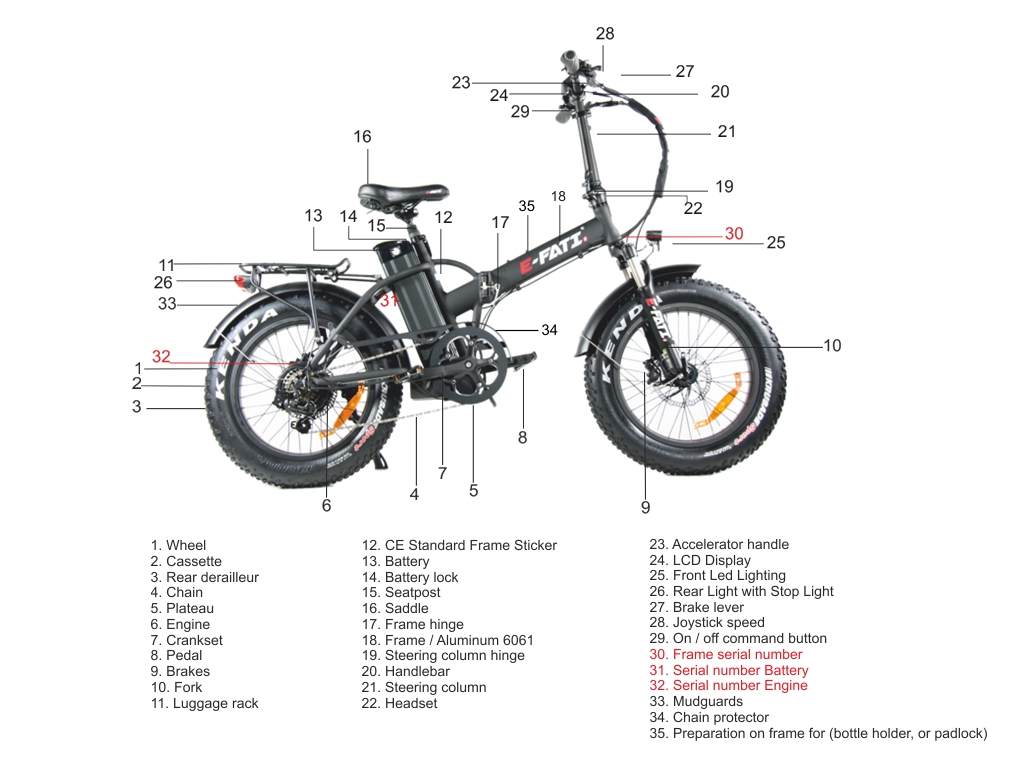 For people with a high weight (from 95Kg) and tall (from 1m85) longer and reinforced saddle seatposts are made specially, without spring. This is to prevent the frame of E-FATI from being damaged. No extra charge.
Please specify when ordering.

All E-fati electric bicycles are Swiss compliant, which means that the pedaling assistance can not bring you to more than 25 km / h, to exceed this speed you will have to press the pedals! Unbridled E-fati is no longer under warranty (neither by the manufacturer nor by the store). Unbridging his electric bike will invalidate the homologation of it, and totally forbidden on public roads.

Bafang motor 48V
Power (max) 500W
Torque (max) 80Nm
Samsung Li-Ion Lithium Battery
Battery Capacity 48V 17,4 Ah / (835Wh) 40-80* km / Charging time 6h / Until out of stock
Battery Capacity 48V 20 Ah / (960Wh) 40-100+* km / Charging time 7h
Intelligent Charger 100-240V / 50-60Hz / 3A
Maximum speed at pedaling 25 Km / h
Throttle 20 Km / h
E-FATI LCD display 5 levels of assistance
Front LED lighting with stop lights
Frame material Aluminum 6061
Frame preparation for (bottle holder, or padlock)
Suspended fork Aluminium
Tires 20 "x 4.00 Kenda
Mudguards Yes
Chain protector
Luggage rack Max 25Kg
180mm hydraulic disc brakes
Shimano Tourney 7 speed transmission
Tray Av 52 teeth
Weight net:28 Kg
Weight brut:33 Kg

Dimensions E-fati L Height 120cm Width 60cm Length 178cm
Dimensions E-fati L Folded Height 75cm Width 54cm Length 110cm
E-FATI LU is the folding electric bike version with Unisex frame geometry. The LU Unisex frame with a low entrance, very practical in the city because at a stop or a red light it is easier to take its support down the bike.

E-FATI E-URBAN

The E-FATI range are equipped with BAFANG 48V 500W rear wheel motors with Samsung 48V 20Ah 960Wh
If you intend to use your E-FATI on short trips and reasonable slopes, if you like dynamic driving for urban use, you can opt for an engine in the E-FATI rear wheel hub.
This engine is the most nervous and reactive because it is directly connected to the rear transmission, and accelerates without going through the crank, the pinion and the chain. Which is highly appreciated by those who love dynamic driving. The E-FATI engine, built into the hub of the rear wheel, is virtually invisible.
Many models, even high-end, are based on this engine.

Delivery only in Switzerland
Your attention please !!! E-FATI Bikes can only be delivered in Switzerland and Liechtenstein.



E-FATI LU 48V 20Ah 960Wh 500W
Product:E-FATI LU 500W 48V
Availability:In Stock
2,799.00CHF

Total (incl. TVA):2,799.00CHF