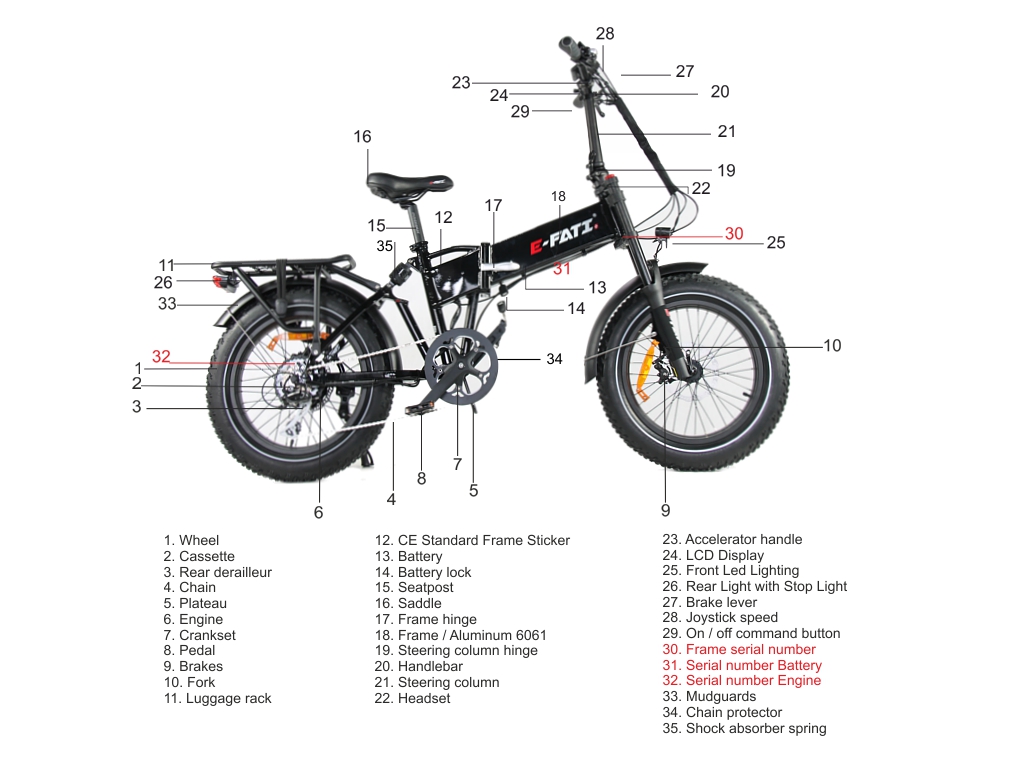 Bafang motor 48V
Power (max) 500W
Torque (max) 80Nm
Samsung Li-Ion Lithium Battery
Battery Capacity 48V 17,5 Ah / 4,2 Kg (840Wh) 40-80* km / Charging time 6h
Intelligent Charger 100-240V / 50-60Hz / 3A
Maximum speed at pedaling 25 Km / h
Throttle 20 Km / h
E-FATI LCD display 5 levels of assistance
Front LED lighting with stop lights
Frame material Aluminum 6061
Suspended fork duble T Aluminium
Tires 20 "x 4.00 Kenda
Mudguards Yes
Luggage rack Max 25Kg
180mm hydraulic disc brakes
Shimano 7 speed transmission
Tray Av 52 teeth
Weight 29 Kg

Dimensions E-fati FS Height 124cm Width 62cm Length 180cm
Dimensions E-fati FS Folded Height 77cm Width 64cm Length 104cm

E-FATI FS
The E-FATI FS is the foldable electric fatbike version, specially designed to offer you maximum sensations, strength, comfort and character. With its folding system, you can store it in the trunk of your car, in your truck, in your camper, in your boat ... With its big profiled tires 20 "x 4.00, you can easily on all the ground , on uneven or slippery terrain Mounted on rims of 20 inches 80mm, you get from the rim at the edge of the tire close to 8 inches of air cushion. With the suspension fork, driving with the E-FATI FS is a real treat and comfortable. a battery of 17.5 Ah / 840Wh with a range of 40 to 80 km.

Delivery only in Switzerland
Your attention please !!! E-FATI Bikes can only be delivered in Switzerland and Liechtenstein.


E-FATI FS 48V 500W 840Wh
Product:E-FATI FS 48V 840Wh
Availability:In Stock
2,499.00CHF

1,999.00CHF

Total (incl. TVA):1,999.00CHF