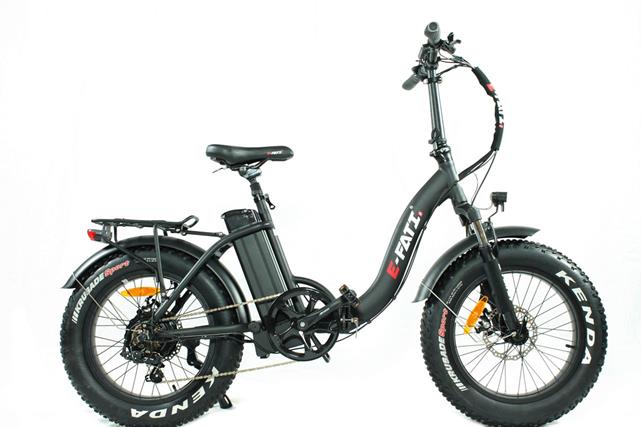 E-FATI LU
The E-FATI LU electric bikes folding foldable thanks to its big tires, small but strong!
The E-FATI LU with big tires of 4 inches, mounted on rims 20 inches, thus one obtains from the rim to the edge of the tire almost 8 centimeters of air cushion, which makes that to roll with the E-FATI LU is a real pleasure. Once mounted on the E-FATI LU throttle to the right handle allows easy start up to 20km / h without pedaling, so pedaling is the choice of a person.
E-FATI LU is the foldable electric bicycle version with a Unise frame geometry, x 36V battery 17,4Ah expandable according to the requirements of the trip and the daily use. It is located in the back part, under the saddle along the vertical bar of the frame.

The Unisex frame with a low entrance, very practical in the city because at a stop or a red light it is easier to take its support down the bike. The preference of women ... and of small people.
To meet the demand of our customers, we have prepared a Model E-FATI LU with unisex geometry

Unbridging E-fati is no longer under warranty (neither by the manufacturer nor by the store).
Unbridging his electric bike will invalidate the homologation of it, and totally forbidden on public roads.

BAFANG 36V 500W / 630Wh
Available colors
White - Matt Black
2 years warranty


CHF 2199.00 (VAT incl.) In stock 36v 17,5Ah 630Wh


TECHNICAL SPECIFICATIONS E-FATI LU

Bafang motor 36V
Power (max) 500W
Torque (max) 80Nm
Samsung Li-Ion Lithium Battery
Battery Capacity 36V 17,5 Ah / 4Kg (630Wh) 40-80 * km / Charging time 6h
Intelligent Charger 100-240V / 50-60Hz / 3A
Maximum speed at pedaling 25 Km / h / 35 Km / h * / * 45 Km
Accelerator handle yes
LCD display 5 levels of assistance
Front LED lighting with stop lights
Frame material Aluminum 6061
Suspended fork
Tires 20 "x 4.00 Kenda
Mudguards Yes
Luggage rack Max 25Kg
Tektro 180mm Disc / Brake disc brakes
Shimano Tourney 7 speed transmission
Tray Av 52 teeth
Weight 25 Kg
Dimensions E-fati L Height 120cm Width 60cm Length 178cm
Dimensions E-fati L Folded Height 75cm Width 54cm Length 110cm
E-FATI ready to roll

E-FATI gives you complete control of the bike and its components. The bike is fully assembled by a certified technician to verify that the frame and all components and peripherals are in perfect condition.
The technician then adjusts the transmission, brakes and headset. It also checks the wheel assembly, especially the spoke tension.

The entire motor / battery / control panel is checked.

The bike is then packaged fully assembled in a special E-FATI carton so that it can be shipped and delivered to your home.
You get a bike ready to ride: you have nothing to do except adjust the height of saddle and gallows to your size.




E-FATI L-LU
Weight
25Kg
Dimensions
Dimensions E-fati L Height 120cm Width 60cm Length 178cm Dimensions E-fati L Folded Height 75cm Width 54cm Length 110cm
Moteur
Bafang 36V 500W
E-FATI LU
Product Code: E-FATI LU
Availability: In Stock
2,199.00CHF

Total (incl. TVA): 2,199.00CHF